Margaret Doom
Executive Director
Margaret Doom was born and raised in rural South Dakota and has been a lifelong student of the human horse relationship. She ateneded the University of Minnesota - Morris for a Bachelor's degree in Sociology and shortly after went on to pursue her lifelong passion for working with horses. She has worked for several different stables and with horses across a diverse array of disciplines, however her true calling is to teach horses and people a language that allows them to communicate and teach one another. "Horses mirror the person working with them. They can show us all at once just how incredibly strong and how incredibly vulnerable we are. In addition to this, they are a great equalizer among men. It doesn't matter how strong or intelligentor beautiful you are. Horses aren't looking at that. They are looking straight at the essence of who you are."
Tammy Doan
Occupational Therapist-Hippotherapy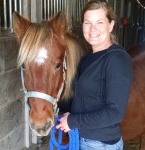 Tammy Doan was born and raised In North Dakota, received her occupational Therapy degree from the University of Minnesota, and has lived in South Dakota since 1998. Tammy has provided OT Services in a variety of settings including a school system, residential care center, long term care facility, community outpatient, and home health. She has also volunteered at HorsePower during therapeutic riding lessons since January 2015. Along with her desire to assist others reach their full potential; Tammy has a love for horses. "I believe the power of a horse to help facilitate therapy goals is a truly amazing and unique experience. I am very excited to be a part of HorsePower's mission!"
Shelly Bartels
Head Instructor
Shelly Bartels began as a volunteer at HorsePower cleaning and doing chores in 2012. Later she started helping in lessons and came on as a second instructor in the summer of 2018. Shelly is the owner of Doc Hudson and enjoys spending time with her 2 and 4 legged friends and family members. She likes horseback riding and training the family dog, Sky. Shelly never knew how quickly you could loose track of time being in the barn and taking in the sights and sounds of nature!